Mr. Do! Bezel Restoration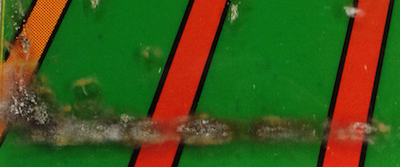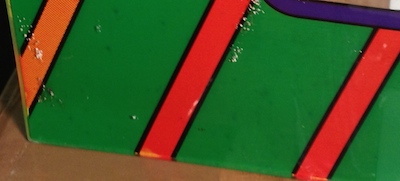 Cigarette burns are common on any plastic parts near the player. This bezel was bound for the dumpster, but I wanted to give it a shot.
Second Try
I used a
headlight restoration kit
. This was my second, much larger, scratch repair.
Gathering Tools
The kit assumes you have a drill that spins at 1200-1500 RPM. My trusted heavy duty Milwaukee only travels 850 RPM. I had to step down to my cordless
screwgun
, but it worked. I also tried using a corded Drill traveling up to 2500 RPM. It worked but quickly chewed up the sanding discs. I was replacing them very quickly and decided to go back to the battery screwgun to finish the job.

Check your speed.

Last time, I was choking on plastic dust and it was caking around my eyes right from the start. I invested in a
respirator
this time and it was worth at $15! It is a very dusty process. Frequent cleaning of the work and the pads are recommended. This avoids gathering molten plastic on the pad and then gouging the work with it at 1500 RPM.
First Round
The first round of sanding is the toughest. The 500 grit pad kicks out serious amount of dust. With the deep burns in this project several pads were needed to remove enough material.This image is about half done. Note the clear, untouched part of the window compared to the corner where the brown was removed. It always looks like you are destroying the piece, but it polishes to a shiny, see-through piece in the end.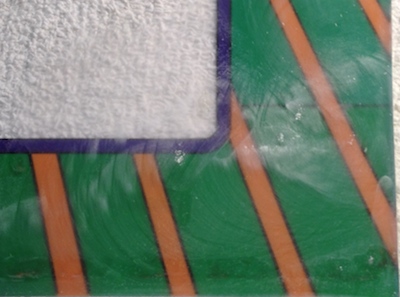 Second Round
The first pass removes so much material, it is easily half the job. This pass still kicked out dust but I was not removing much, just polishing. It was still very hazy at this point. Some of the deeper burns are still visible. They are so deep I would need to remove half of the material and then it would rattle in the track. I am choosing to stop here and hoping the final polish will remove the dust in those pits.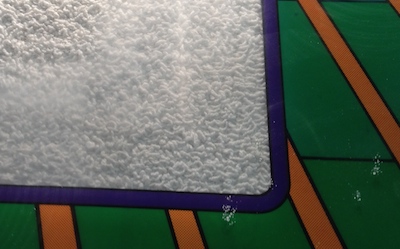 Third Round
I declined to use the water this time. It is a only a suggested practice. Note the window is clearing up but the pits are still white. You can also see the scratches left by the 3000 pad refracting the direct light on the left.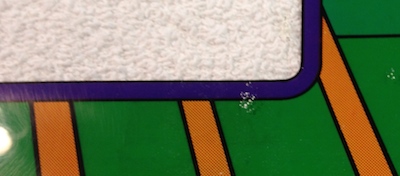 Fourth Round
David skipped the gloves and smeared the polishing goop on the buffer pad. Much less mess than I encounter last time. This polish goop made it shine. It is positively mirror like.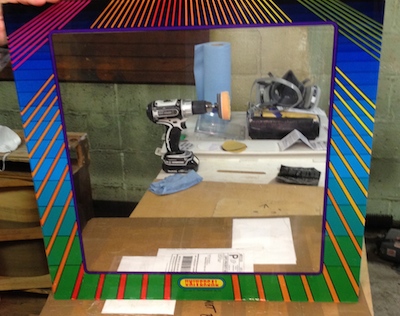 Links
More:
photos
Kit:
3M
Respirator:
Home Depot