10/11/07 08:41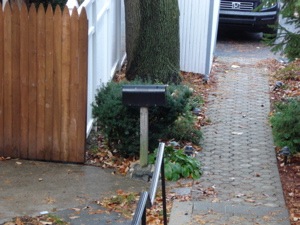 One of the many things I missed about "home" when living in AZ was "normal" mail service. Arizona, or at least Scottsdale, is crazy about planned communities. It is nearly impossible to buy a house without a:
Home Owner's Association
lot measured in square feet (< .01 acres)
shoe box in the community mail bank
limited range of exterior options
Closed Loop Driveway they aggrandize to roads
perimeter defense systems of walls around the community and each lot
Landscaped Advertisement for the management company at each entrance and the corner of the major intersection
I understand the traditional problems the Home Owner's Association was invented to fix. I don't want a neighbor with cars up on block on his front lawn. I don't want the upwardly mobile domestic partners with the lovely corner Victorian to paint a rainbow into the Gingerbreading. I don't want the old lady across the street to let her house tumble down around her. Unfortunately when the HOA becomes a Management Company, the home owner loses the benefits of home ownership and becomes something between a college dorm resident and a condominium "owner."
I love the USPS in this corner of the world. I have a mail box. A real one. It is big enough to hold the reams of junk mail I get. It is on my property (Scottsdale translation: my lot) so I can easily check my mail when I get out of my car and walk to my house. I can put stamped mail in the mail box, raise a flag and the "Delivery Specialist" takes it to the post office when they return. If I get a package that is too big for the mailbox, they place it on my porch.
Scottsdale Post Office would routinely:
Jam mail into the tiny box and tear, fold or mangle half of it.
Fail to deliver our mail
Delivery my neighbor's mail to me
Drop a card explaining I had too much mail and required me to pick it up at the Post Office
Any package, I had to pick up
The mailbox was in a "bank" of mail boxes like I used to have in my college dormitory. There is no flag to raise for outgoing mail. If I put outgoing mail in the mail box they jammed new mail in the box usually folding and mashing the outgoing mail.
The only mail box I could find was 1.2 miles away on the corner of North Thompson Peak Parkway and McDowell Mountain Ranch Road. This is a busy intersection with no parking lots. You needed to pull into the bus stop and hop out before the bus came through. A convenient post box in a grocery store parking lot or a mail box in the community was not to be found. Hey, why not dedicate one of the shoe boxes to outgoing mail?
The community mail bank was only at the end of the block and around the corner. It was just out of the way. It was purposely hidden so as not to detract from the aesthetics of the community. This accomplished 2 things for me. The first was to put it out of mind on my way home so I would routinely fail to check the mailbox. The second was to sanitize my community of any working facility that might indicate actual people lived there. (Heaven and the Management Company forfend!)
Notes:
Undelivered Mail:
I understand that some of my mail did not get delivered because my wife's last name is Oxenford-Melcher. This means her name is not Melcher and can't be delivered to the Melcher mailbox. At least according to the Patriach of the Airpark who explained WHY his people could not seem to deliver the mail. In Tarrytown they READ the address. They understand that Oxenford-Melcher is a Melcher, too. In fact they delivery mail for James Oxenford, knowing what the sender intended. They delivery mail intended for the current occupant even though it may still bear the name of the prior occupant. The route sort code indicates this is the intent of the mailing. They simply cross out the wrong name and write OCCUPANT.
Translation for the New England set:
You may think I am exaggerating the Perimeter defense network. I am not joking. They build 60 -75 inch high walls around the entire development. Often they will add a moat they call a wash. Each lot is also surrounded by the same or similar high walls. I am not talking about the quaint farm lot walls of tumble down rocks that surround those country estates in Connecticut. Nor am I confusing fence with wall. These walls are block and mortar covered in stucco. Often they are painted and tiled. Every entrance has a little landscaping and a curved wall featuring a tiled fresco or bronze plaque proclaiming the name of the development and the management company.
Road Name Rage:
Another thing, who names a road Thompson Peak Parkway? What was wrong with 94th Street? Do you need to top it off with NORTH? Of course it's north! It is 5 degrees cooler up there! Ever try fitting that in the space provided on most forms? Let's not forget that the numbers out there are in the 15000 range. Who does that? Is it really the intent of the Phoenix Post Master to renumber the United States using Central Avenue as the Prime Meridian? I think Postmaster Francisco Franco needs to consider the value of the ZIP code and restart the numbering every fifth Rancho or so.
Crime:
For a city that claims low crime rates, Scottsdale services used crime as the excuse for everything. The dedicated shoebox for outgoing mail? "We can't because the thin aluminum construction of these mailboxes invites thieves to break in to steal mail with checks inside." I am sure it is perfectly safe for my mail, though.
Well, that should draw some comments
09/06/07 14:45
My Christ-Crazed, Umlaut-having, SNOTtsdale-defining neighbors are moving today! I am moved... to song!
PARENTAL WARNING: These lyrics contain sarcasm, religious intolerance and a general disdain for Home Owner's Associations, Conservative Christians Groups and other forms of proselytizing. Sing at your own risk of eternal damnation and Hell fire!
Jesus loves them this I know
Zealous Christians told me so
To their church I must belong
Well I guess I proved them wrong
REFRAIN:
Yes! Jesus loves them
Yes! Jesus loves them
Yes! Jesus loves them
Zealous Christians told me so
Little Ones they now have four
Sell their cookies at my door
Said they want a bigger yard
New neighbors should be on guard
==REFRAIN==
Teddy's barking at your gate
Hope you were not up too late
Tennis balls and rackets soon
Fill your yard all afternoon.
==REFRAIN==
Debbie has a business plan
In your hand her card she crams
Baskets, flowers, plastic bins
Depends upon, "whatever's in!"
==REFRAIN==
Speeding signs and safety cones
Soon will block your way back home
Who has moved in 'cross the street
Fam'ly from their church they meet
==REFRAIN==
Thursday night the cars all park
'Round their house 'til after dark
Bible Thumpin' is the sound
You will hear them as they pound
==REFRAIN==
Recyclin' goes out to the curb
Herr Sören this will disturb
Bottles, cans of sinful drinks
His look for you, it is distinct
==REFRAIN==
Better have the bin back soon
Well before the stroke of noon
If he notes a small delay
Notifies that H O A
==REFRAIN==
Social skills are weak and wrong
On this block they didn't belong
Hindus, Jews and atheists
None of us they'll ever miss
MIDI:
Musical Accompaniment