12/11/07 21:41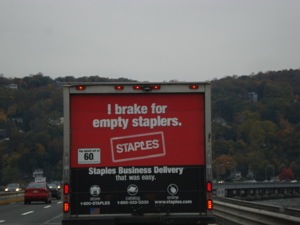 Well, what can I say. It was an advertisement that made me chuckle. Had to share it.
15/08/07 20:18
As part of the relocation plan I was placed in corporate housing. The apartment was adequate. I did get to live like a bachelor for a few weeks.
Photo Album:
Corporate Housing
, August 2007
30/01/07 19:43
We filled two of our open requisitions at work. Training the new employees is turning out to be a full time job. It also encourages me to eat bad food.
I need to get a handle on my schedule. I am off. This leads to breakfast at the fast food joints on the way in or a quick snacky breakfast consisting primarily of an over sized sugar and carbohydrate laden muffin.
212