#1 Worldwide, Bullocks
Plasticville has more aspects than plastic neighbors and draconian HOAs. It has realtors. Aggressive realtors who advertise without thinking. Aggressive realtors with really bad names.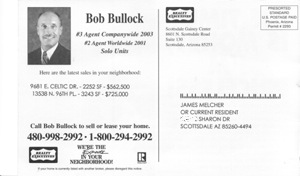 Never Mind the Sex Pistols, It's Bob Bullock! He was the #3 Agent Companywide in 2003. He was the #2 Agent worldwide in 2001.
Never mind the market has slumped and Bob hasn't made the top ten is over 2 years...
He will sell your house for $562,00 - $725,000! On average that is only 75,000 less than you paid last year!