Sleepy Dog
Larry asked, "what does your dog do all day while you are at work?"
Simple answer: Sleep!
I told him I can get home early some days and the dog will not even hear me come into the house. He loves his nap time.
Larry asked, can you catch him sleeping? I did: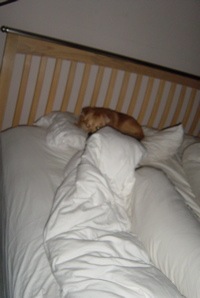 He didn't even open his eyes until the red eye reducing preflash was going.
Yes, the bedding is probably Fleinhardt
1
approved.
1
CBS has cancelled and removed Numb3rs from their site. Dr. Fleinhardt had an obsession with all things white.